Chinese scientists uncover important mechanisms of acclimation in rice in response to long-term fluctuating light
Date:2020-11-23Author:Fengying DuanSource:
  Recently, researchers from the Institute of Crop Sciences, Chinese Academy of Agricultural Sciences, together with their collaborators have found that electron flow, ATP synthase activity and NPQ regulation are the major factors determining growth performance of rice under long-term fluctuating light (FL) conditions. Their findings pave a way to improving rice growth and photosynthesis efficiency under FL. The results were published as a research article 'Leaf photosynthetic and anatomical insights into mechanisms of acclimation in rice in response to long-term fluctuating light' in Plant, Cell & Environment on 20 November 2020 (Doi: 10.1111/pce.13954) https://onlinelibrary.wiley.com/doi/abs/10.1111/pce.13954
  Professor Wenbin Zhou highlighted significance of this report:" Light is one of the most dynamic environmental factors impacting on plant performance. Light intensity varies during the day; for example, light is the highest at midday and fluctuates with shading from clouds or from neighbor leaves swinging in wind. The light fluctuations occur on the scale of seconds to minutes, and may last from hours to days. Although short-term response to FL have been studied by using several mutant plants, the physiological mechanisms underlying the response to long-term FL conditions are largely unknown, especially for many crops including rice."
  This authors compared rice growth under short-term and long-term FL conditions, and found that long-term FL treatment decreased growth rate as measured in plant height and leaf area. Under short-term FL photosystem I (PSI) was inhibited. However, an increase in pH differences across the thylakoid membrane and the xanthophyll cycle caused fast induction of NPQ, which protect PSII during short-term FL treatment. Under long-term FL, both PSI and PSII were inhibited. Higher acceptor-side limitation in electron transport and higher overall non-photochemical quenching (NPQ) explained the lower efficiencies of PSI and PSII, respectively. In addition, FL-treated plants had decreased ATP synthesis activity and decreased stomatal opening, which further limited CO2 assimilation and as a result repressed rice growth.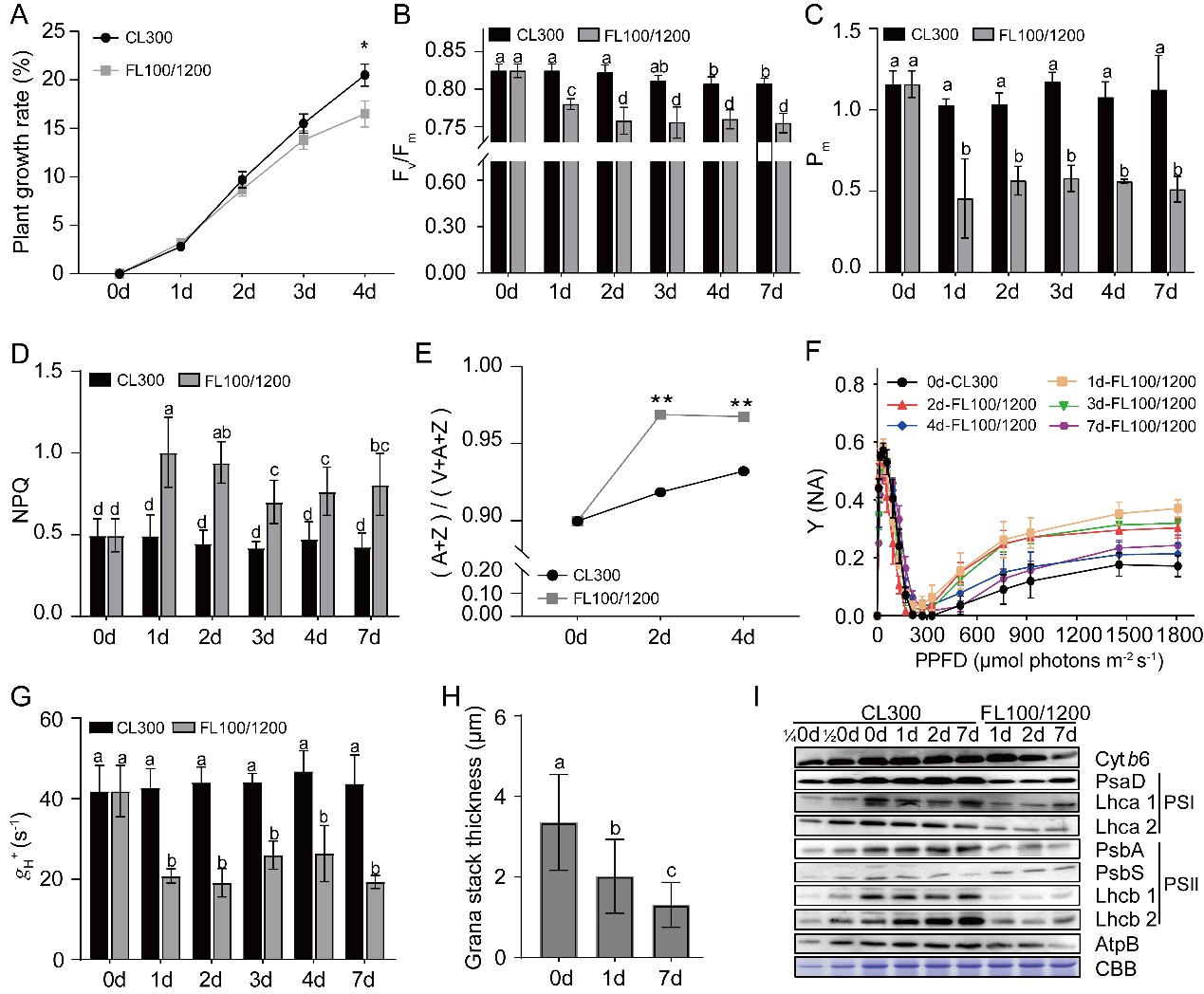 Figure. Mechanisms of acclimation in rice in response to long-term fluctuating light
  This work was supported by the National Key Research and Development Program of China (2016YFD0300102) and Innovation project of Chinese Academy of Agricultural Sciences.
  By Wenbin Zhou (zhouwenbin@caas.cn)